Boeing B17G 'Sally B' is owned by B17 Preservation and is housed at the Imperial War Museun Duxford, England.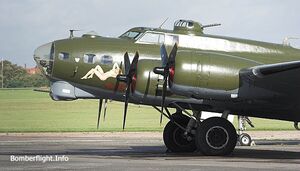 History
Notes
↑ E prefix indicates loan status, effectively transferring the Air Force's responsibilities to the contractor. The T denoted a training role.[2]
↑ As a tribute to Ted White, It was decided to apply the yellow and black checkerboard scheme from the cowling of the Harvard onto the cowling in Sally B's no 3 (starboard inner) engine. Apart from the period spent filming 'Memphis Belle' in 1989, Sally B has retained this marking ever since.[5]
Sources