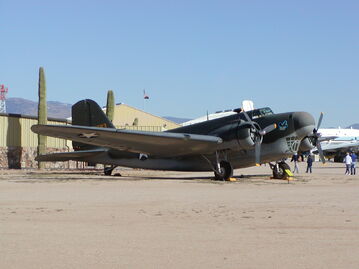 Serial Number 38-0593 is a Douglas B-18B Bolo medium bomber that is currently on display at the Pima Air & Space Museum.
It is one of only 5 B-18s to survive to the present day, and was used for anti-submarine patrols during World War II until 1943, when it began a role as a transport aircraft. She was struck from the Air Forces' inventory in 1945 and subsequently converted into a firebomber.
The museum acquired it in 1976 and restored it. The aircraft is now displayed inside Hanger 1 South, in the markings of the 25th Antisubmarine Wing, 4th Antisubmarine Squadron, Langley AAF, Virginia, (July 1942).Pima Air & Space Museum
Community content is available under
CC-BY-SA
unless otherwise noted.