B-29 MO Martin-Omaha
'
B-29-35-MO BOCKSCA'
R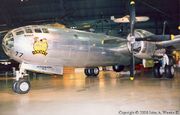 44-27297
USAF Museum at Wright-Patterson AFB, Ohio.
509th Composite Group aircraft that dropped the Atomic Bomb on Nagasaki August 9, 1945.
Put into storage at Davis-Monthan AFB, Tucson, Arizona in September 1946.
note There was some confusion between this aircraft and "The Great Artiste".
Reportedly, "The Great Artiste" was originally earmarked as the Nagasaki bomber and was to be set aside for preservation.
Some photographs show "Bockscar" in storage with The "The Great Artiste's" numbers on the fuselage.
Last flight was in September 1961 from DMAFB to the USAF Museum (with the number 89 on the fuselage).
Aircraft is fully restored and on permanent display in it's correct markings.
The original "The Great Artiste" was damaged in a landing accident on September 3, 1948 at Goose Bay, Labrador.The aircraft was scrapped on the base
Gallery
Community content is available under
CC-BY-SA
unless otherwise noted.