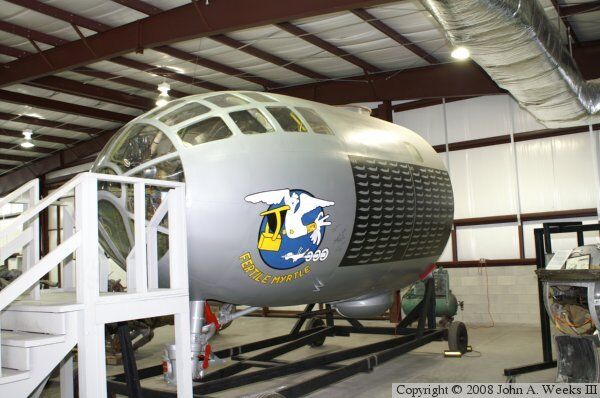 45-21787 B-29-95-BW c/n 13681
FERTILE MYRTLE
This aircraft was delivered to the United States Army Air Forces in mid-September 1945 as 45-21787.
In 1947, the plane was transferred to the US Navy for long range search operations, and assigned Bureau Number 84029.
It was later transferred to the NACA (the forerunner of NASA), designated NACA 137, and used as the mothership to launch the D-558-II Skyrocket, which eventually became the first aircraft to exceed Mach 2 with Test Pilot Scott Crossfield at the controls.
In the early 1970s, NASA sold the B-29 to the American Air Museum in Oakland, California, where it was maintained in flyable condition.
It was featured in the 1980 disney film "The Last Flight of Noah's Ark" during the flight sequences in the film.
Severe wing spar corrosion grounded the plane in the early 1980s, and it was sold to Kermit Weeks in 1984.
Attempted ferry flight to Stockton for a thorough restoration aborted after nearly crashing into downtown Oakland on takeoff.
The aircraft was disassembled, and Weeks had the nose section put on display in his Museum in Miami, while the rest of the aircraft was put into storage at Aero Trader in Ocotillo Wells, California.
The nose section was heavily damaged in 1992 by Hurricane Andrew (which completely destroyed the Weeks Air Museum, damaging most of the aircraft collection), and was subsequently vandalized before it was retrieved.
The nose section has since been restored and completely re-skinned, and is on display at the Fantasy of Flight Museum in Polk City, Florida, along with the remainder of the unrestored fuselage & wings.
This B-29 is a complete airframe although the components are in different locations.
Gallery