MO-Martin-Omaha
44-86408 B-29-55-MO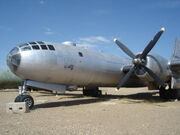 Name not original to the aircraft.
Took part in air sampling during the atomic bomb tests in the Pacific.
Transferred to Pyote Field in 1945.
Transferred to Kelly Field in 1946
Transferred to 97th Bombardment Group at Biggs AFB in 1948.
Transferred to Campbell Field, Kentucky in 1949.
Transferred to 43rd Bombardment Group at Davis-Monthan AFB, AZ in October 1949.
Transferred to 9th Bombardment Wing at Fairfield AFB, CA, August 1950.  Unit transferred to Travis AFB, CA, February 1953.
Transferred to the Wright Development Center,
Wright-Patterson AFB, OH, May 1953.
Transferred to 6750th Chemical and Ordnance Test Group, Air Research and Development
Command, Hill AFB, UT, June 1953.
Sent to

Dugway Proving Ground

in 1953. Used for chemical testing, then abandoned.
Recovered from Dugway in 1983 and shipped by truck to Hill AFB.
Aircraft had faint 6th Bomb Group Markings.
On outdoor display at the Hill Aerospace Museum at Hill AFB, Ogden, UT. Aircraft has areas of heavy corrosion.  False (non-conforming) gun turrets installed.
Gallery