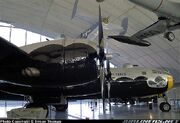 44-61748 B-29A-45-BN
Aircraft assigned to the 371st Bombardment Squadron, 307th Bomb Group,

307th Bomb Wing

 at Kadena AB, Okinawa in March 1952.
Flew 105 combat missions over North Korea carrying the name "It's Hawg Wild" before the Korean armistice agreement was signed in July 1953.
Sent to Naval Air Weapons Station

China Lake,

California as a target in November 1956.
Donated to the Imperial War Museum by the US Navy in 1979.
Recovered from China Lake on November 16, 1979 after being made flyable and flown to Tucson, Arizona for further restoration by Aero Services.
On February 16, 1980, the aircraft was flown to Flint, Michigan.
On March 2, 1980, the aircraft arrived at Duxford via Loring Air Force Base, Maine; Gander, Newfoundland; Sondestrom Fjord, Greenland; Keflavik, Iceland; and Mildenhall, UK.
Severe corrosion was found in the bomb bay area requiring extensive repairs.
Exterior was eventually repainted in its wartime color scheme and the aircraft was fully restored.
On permanent indoor display at the

American Air Museum

,

Imperial War Museum

, Duxford, England.
Gallery