BW Boeing-Wichita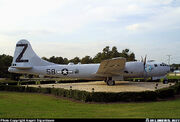 44-70113 B-29-80-BW
SWEET ELOISE
On outdoor display at the main gate of Dobbins ARB, Georgia.
Name on aircraft is not original.
This aircraft was originally named "Marilyn Gay" during WWII.
It was renamed "Hoof Hearted" after the war during it's service in England. The B-29 Superfortress Association named the aircraft "Sweet Eloise" in a ceremony in the 1990's.
Originally stationed in Saipan with the 73rd BW, 500BG, 883rd BS. Shot down 3 fighters and possibly 3 more.Flew 27 combat missions and 5 POW missions.
Sent to

Aberdeen Proving Grounds

in 1956.
Recovered in 1973 and moved in pieces to the now defunct

Florence Air and Missile Museum

in South Carolina.
Aircraft was left in the open disassembled until 1989.
After reassembly, while aircraft was being towed to its display spot, the fuselage split at two seams and collapsed.
The museum hadn't properly bolted the fuselage sections together and the plane could not stand the strain.
The aircraft was abandoned where it fell.
Further damage was caused by Hurricane Hugo.
The nose section was rolled onto its side.
The aircraft lay derelict until obtained by the B-29 Superfortress Association at Dobbins ARB.
This group had formed with the intention of getting and displaying a B-29 at Dobbins ARB.
After failing to get "Enola Gay" from the Smithsonian (and several other B-29's),
they were able to obtain the Florence aircraft.
The components were removed and sent to various vo-tech schools for restoration.
Restoration was conducted between 1994-1996.
The aircraft is now on display at the main entrance to Dobbins ARB and illuminated at night.
Cosmetic restoration only. Nothing was attempted on the interior.
The nose glass is an aluminum fake. The side blisters are from a Burger King children's play area. Gun turrets are fake with plastic pipe for guns. Missing hatches were plated over. Entire aircraft is painted gray/white.
The name and nose art was never carried by this aircraft, although it does have the number and tail code it wore in WWII.
This aircraft was a lead ship, yet the dorsal stripe was not applied.
Outdoor display.