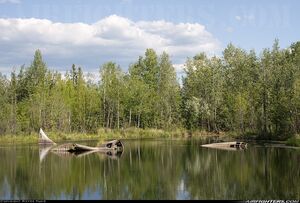 B-29A BN Boeing-Renton
B-29A-70BN c/n 11691 44-62214
Lady Of The Lake

Submerged in pond on Eielson AFB, Alaska.
Name not original to this aircraft and is simply a name the aircraft is referred to as.
on 1949 a flight from Yokohama Japan to Alaska, it detected Radioactive fallout from the nearby Soviet Unions test of the RDS-1 atomic bomb.
by the mid 1950s Eielsons B-29 fleet was being replaced with the new B-50, s/n 62214 was written off the flight inventory and was towed to a frozen pond for use as a "ditched aircraft trainer". The pond turned out to be deeper than anyone thought and the aircraft is almost totally submerged.
Gallery