MO Martin-Omaha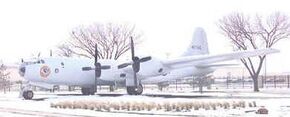 44-27343 B-29-40-MO
Allocated to various Reconnaissance Weather Sqadrons, Including the 513th RWS at Tinker AFB in 1950.
Transferred to the 57th Strategic Reconniassance Weather Squadron at Hickam AFB in Hawaii.
Used in support of Atomic Bomb tests.
Sent to Aberdeen Provings Grounds, Maryland in 1955 for use as a target for weapons testing.
Recovered from Aberdeen in 1985.
Restored to Static Display Condition.
On outdoor display at the Charles B. Hall Air Park at Tinker AFB in Oklahoma City, Oklahoma without any gun turrets installed.
Gallery
Community content is available under
CC-BY-SA
unless otherwise noted.