SB-29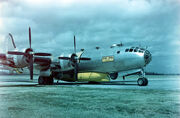 The SB-29 Super Dumbo''''' was a version of the B-29 adapted for air-sea rescue duty near the end of World War II. Sixteen 29s were modified to carry a droppable A-3 lifeboat under the fuselage, the SB-29 was used mainly as rescue support for air units that flew long distances over water. With the exception of the forward lower gun turret, all defensive armament was retained. They also carried a variety of radio equipment, provisions, survival kits, and extra crew. It was used throughout the Korean War into the mid-1950s. It received its nickname from "Dumbo", the Disney character, whose name was given to the aircraft used in previous missions to pick airmen up when they crashed at sea.
TB-29
The TB-29 was a trainer conversion of B-29 used to train crew for bombing missions; some were also used to tow targets, and the designation included B-29s modified solely for that purpose. Their most important role was serving as radar targets in the 1950s when the United States Air Force was developing intercept tactics for its fighters.
WB-29
The WB-29s were production aircraft modified to perform weather monitoring missions. They conducted standard data-gathering flights, including from the UK over the Atlantic, but were also ordered to fly into the eye of a hurricane or typhoon to gather information. Following nuclear weapons tests, some WB-29s would use air sampling scoops to test radiation levels. An observation position was fitted above the central fuselage section.
Notes