Main article: B-52 Stratofortress
Boeing B-52 Survivors, highlights the history of many well known static displayed B-52s in the United States. A list is also provided of other Stratofortresses on display around the world; including location, model and serial numbers, brief history, nicknames/markings, and conditions.


Background
Source: USAF Fact Sheet
The B-52A first flew in 1954, and the B model entered service in 1955. A total of 744 B-52s were built with the last, a B-52H, delivered in October 1962. It served in the Strategic Air Command. Only the H model is still in the Air Force inventory and is assigned to Air Combat Command and the Air Force Reserve Command.
B-52 survivors
B-52A BO Boeing-Seattle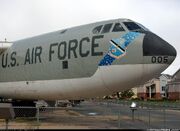 B-52B BO Boeing-Seattle
B-52B-5BO c/n 16495 52-005, accepted: 3 March 1955, ex-6515th Maintenance Group (Air Research & Development Command) - Edwards AFB, ex-93rd BW / 330th BS - Castle AFB, ex-3415th MSG (ATC) - Lowry AFB, ex-Lowry Technical Training Center, redesignated: GB-52D, soc: April 1982, " 005 ", Wings Over the Rockies Air and Space Museum closed Lowry AFB, Denver, Colorado (D) [1] (N39 43' 12.22" W104 53' 44.73")
B-52B-10BO c/n 16498 52-008, redesignated: RB-52B, assigned: NASA "008", converted: NB-52B, mothership: X-15, X-38, X-43A, soc: 17 December 2004 " 0008 ", Edwards AFB Museum, California (D) [2]
note: One of the few B-52's to have actually dropped a nuclear weapon.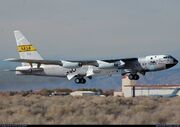 B-52B-30BO c/n 16858 53-379, redesignated: RB-52D, Barrier test aircraft, Rogers Dry Lakebed, Mojave desert (W) (N34 49' 07.33" W117 51' 09.30")
note: nose section only
B-52D BO Boeing-Seattle
B-52D-55BO c/n 17184 55-0068, History and Traditions Museum, Lackland AFB Texas (D) [10] (N29 23' 01.37" W98 38' 00.75")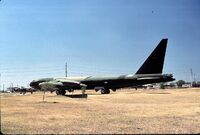 B-52D-55BO c/n 17199 55-0083, ex-7th BW, ex-??BW, participated: Linebacker II, Mig 21 Kill (Tail Gunner: A1C Albert E. Moore) (24 December 1972) , ex-96BW, Dyess AFB, Texas " 083 Diamond Lil ", USAF Academy Colorado (D) [13] (N39 01' 16.44" W104 51' 01.82")
B-52D-55BO c/n 17201 55-0085, ex-99th BW - Anderson AFB, ex-7th BW - Carswell AFB, Museum of Aviation(MoA) Robins AFB, GA (D)
note: cockpit section only
B-52D-60BO c/n 17216 55-0100 lies abandoned on the island of Guam (W)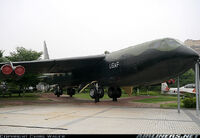 B-52D-70BO c/n 17269 56-586," 55-0100 ", Arc Light Memorial, Andersen AFB Guam (D)
B-52D-70BO c/n 17272 56-589, converted: GB-52D, Sheppard AFB Texas (D)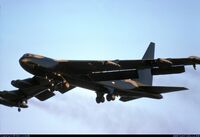 B-52D BW Boeing-Wichita
B-52D-25BW c/n 464026 55-679, accepted: 5 June 1957, ex-92nd BW - Ellsworth AFB, ex- 494th BW - Sheppard AFB, ex-509th BW - Pease AFB / Anderson AFB, ex-454th BW – March AFB, ex-22nd BW - Anderson AFB,, ex-99th BW – Anderson AFB / U-Tapao, ex-43rd SW - U-Tapao, ex-7th BW - Carswell AFB, ex-99th BW - Anderson AFB / U-Tapao, ex-22th BW – March AFB, ex- 43rd SW - Anderson AFB, participated: Linebacker II, ex-7th BW – Carswell AFB, ex- 22nd BW – March AFB, 175 combat missions, converted: GB-52D, SOC: 1992, " 679 " March Field Museum(MFM), Riverside, California (D)
B-52D-30BW c/n 464037 56-666, 8th Air Force Museum (D)
note: Verticle Fin only
B-52D-40BW c/n 464052 56-685, Dyess AFB Texas (D) (N32 25' 59.92" W99 48' 54.26")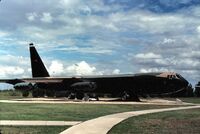 B-52E BW Boeing-Wichita
B-52E-55BW c/n 464109 57-119, " 0119 ", Rogers Dry Lake - Mojave desert (W) (N34 49' 09.75" W117 51' 06.70W)
B-52F BO Boeing-Seattle
B-52G BW Boeing-Wichita
B-52G-75BW 57-6468, Offutt AFB NE (D) (N41 08' 05.50" W95 55' 29.83")
note: nose section only
B-52G-100BW c/n 464259 58-0191, accepted: 16 October 1959, ex- 72nd BW - Ramey AFB, ex-456th BW - Beale AFB/ Anderson AB, ex-17th BW - Anderson AB/ Robins AFB, ex-2nd BG - Barksdale AFB, ex-320th BW - Mather AFB, ex-97th BW - Blytheville AFB/ Edwards AFB, ex-62nd BW - Fairchild AFB, ex-93rd BW - Castle AFB, ex-2nd BW - Barksdale AFB, ex-93rd BW - Castle AFB, soc: August 1991, " 0191 Bearin' Arms ", Hill Aerospace Museum (HAM) Hill AFB UT (D) [25]
B-52G-105BW c/n 464300 58-0232, soc: 3 April 1990, Offutt AFB Nebraska (D)
note: nose section only
note: nose section only
B-52H BW Boeing-Wichita
B-52H-135-BW c/n 464368 60-0003, ex-917th BW/ 93rd BS, Hangar 25 Museum, Big Spring, TX (D)
note: nose section only
B-52H-170BW c/n 464452 61-0025, Assigned: NASA " 025 ", Dryden Flight Research Center (F)
Reference
Template:Refbegin Template:Refend
External links
See also
Template:Commons Template:Commonscat