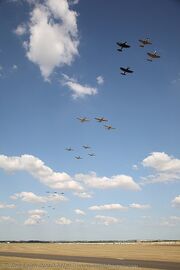 Flying Legends
is an annual aviation event held at Duxford Airfield. It is run by Duxford based
Warbird Operator,
The Fighter Collection
(TFC) in co-operation with the Imperial War Museum (IWM). It specialises in
Warbird
and Vintage piston powered aircraft, but they say they would book a Messerschmitt Me-262 Jet if one was available.
Tradition
Flying Legends traditionally starts with a Spitfire Scramble and ends with the Balbo - a mass formation of Warbirds - all in the sky together. Sometimes there may be up to 25 aircraft in the air at once.
2012
2012's Flying Legends Airshow will be held on the 30th June and 1st July. For more information on Flying Legends 2012 go to:
[http:// http://fighter-collection.com/pages.php http://fighter-collection.com/pages.php