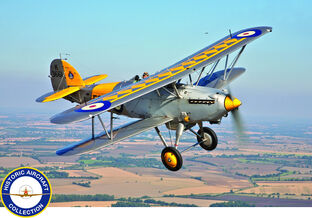 Hawker Nimrod 'K3661'
(Reg No.
G-BURZ
) is owned by the
Historic Aircraft Collection
(HAC), based at Duxford Airfield. It currently wears the markings of 'K3661' 802 Sqn FAA '562'. K3661 resides in Duxford's Hangar 3, alongside other HAC machines such as
Spitfire 'BM597'
,
Hurrricane 'G-HURI'
and Fury K5674.
History
In 1972 the Nimrod was discovered half buried on a scrap dump at Ashford in Kent, more or less complete, but well corroded.
The aircraft remains were recovered and donated to the RAF Museum. They held them in store at RAF Henlow, but when the Henlow storage facility was closed, the fuselage only was sold off by the museum to Mike Cookman. Aero Vintage Ltd. bought the Nimrod fuselage from him in August 1991, and later that year, the wings and tail unit, which by now had re-appeared at the RAF Museum's Cosford 'deep' storage facility. The engine remains with the RAF Museum.
Still with no known identity established, a letter printed in Wingspan magazine concerning the aircraft resulted in Mike Llewellyn of the Kent Battle of Britain Museum at RAF Hawkinge telephoning Aero Vintage with the news that they had a display case full of parts from this Nimrod, including the control column, the instrument panel, map box, ammunition chutes, and much besides, but most importantly was the original cockpit data plates from the aircraft, indicating it's serial number 41H 59890 and RAF number, K 3661.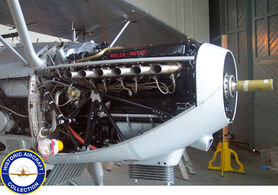 Restoration was started in 1992, with the first challenge being to re-manufacture the spars (a complex roll-formed item from high tensile steel strip). Without this extremely difficult part being successfully re-made there was no point in going further forward, as Retrotec (the restoration arm of Aero Vintage and Historic Aircraft Collection) would only restore this aircraft if it could be 100% authentic down to the smallest detail. The fortunate discovery of a large number of drawings in Denmark, eased the way forward after the spars were re-manufactured satisfactorily, and further years of work and research has lead to the aircraft towards completion. A Kestrel engine was found in Canada, and rebuilt to the appropriate specification.
The Nimrod first flew on 16th November 2006 at Duxford.
Information and Photo's from http://www.historicaircraftcollection.ltd.uk/nimrod/
Community content is available under
CC-BY-SA
unless otherwise noted.