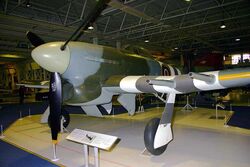 Hawker Typhoon 1B MN235 is the only surviving complete example of the type.[2]
History
The aircraft was completed under contract ACFT/943/C.23(a) by Gloster Aircraft at Hucclecote as part of the largest order for Typhoons - 800 aircraft - and first flew on February 8 1944. After delivery to 51 MU at Lichfield on February 16, MN235 was selected for evaluation and comparision testing in the United States, and taked to 51 MU, Sealand, which was the specialist packing unit on March 12 to be preopared for shipping. The aircraft embarked aboard the SS American Manufacturer on March 24, arriving in New York on April 16, and reached Wright Field in Ohio on May 6.
Under the terms of an order issued by USAAF HQ in April 1944, Material Command at Wright Field were instructed to give the Typhoon 'complete flight test and extensive comparative tests with our standard fighters'. In addition, it's long range capabilities and fighter bomber characteristics were to be studied. There is no evidence that the allocated serial of EF-401 was ever applied to MN235.
According to further corresponsdence, the tests were not mearly comparative, but were aimed at extending the Typhoon's range and fighter-bomber potential. However by mid July the futility of the tests had become apparant, as Typhoons were already carring 1,000lb of bombs or rockets, as well as long range tanks, and had little prospect of carrying more internal fuel. As the Typhoon was also being replaced in service by the Tempest, the trials were cancelled and MN235 was placed in storage after a mere 9hrs flying time.
As a result of the American 'Save one of everything policy", MN235 found it's way to prolonged storage at the Smithsonian Institution's National Air and Space Museum until 1967, when an exchange was arranged to mark the forthcoming 50th anniversary of the RAF, with MN235 crossing the Atlantic in exchange for a Hawker Hurricane Mk II in January 1968[3]
The Typhoon was taken to 71 MU at Birchester for survey, before being transported to 27 MU at shawbury to be refurbished to display standard, with low standard replacements being made for the spinner, upper engine cowlings, radiator, oil cooler, port aileron and parts of the undercarriage.
Although offically handed to the RAF Museum on November 19 1969, it remained at Shawbury until transfered to the Museum at Hendon in 1972. Before going on display, MN235 recieved a new paint scheme to reproduce the camoflage originally worn by Typhoons.[4]
References
Gallery
See also
Hawker Typhoon survivors