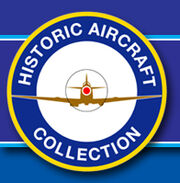 The Historic Aircraft Collection (HAC) was formed by Guy Black and Angus Spencer-Nairn to restore and operate a collection of piston engined military aircraft (Warbirds). They are based along with a lot of other Warbird operators at Duxford Airfield, in the UK. They estimate that over 1 million members of the public watch their aircraft at displays each year.
HAC also use their aircraft for film and television work, including roles in the Battle of Britain Film, Foyles War and The Goodbye Plane.
History
Historic Aircraft Collection was formed in 1985 to restore and operate Spitfire Mk. IX TE566. Alongside this major project, two other Spitfires were recovered from gate guardian roles in Belgium. Spitfire IX MK912 in exchange for a Bristol Fighter and Spitfire XIV RN201 in exchange for a Fairy Battle. Both of these Spitfires were sold and have now been restored by Historic Flying Ltd.
Aircraft
HAC currently operate 4 aircraft which they display throught the UK and Europe.
| | | | | | |
| --- | --- | --- | --- | --- | --- |
| Aircraft Type | Mark | Serial | Reg.Number | Markings | Status |
| Supermarine Spitfire | Mk.Vb | BM597 | G-MKVB | 317 (Polish) Sqn | Airworthy |
| Hawker Hurricane | Mk XII | Z5140 | G-HURI | HA-C No: 126 Sqn | Airworthy |
| Hawker Nimrod | II | K3661 | G-BURZ | K3661 802 Sqn FAA '562' | Airworthy |
| Hawker Fury | Mk. 1 | K5674 | G-CBZP | | Airworthy |
These aircraft were not the only ones HAC have restored and operated.
Nieuport 28c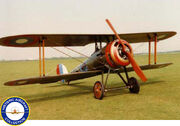 World War I survivor Nieuport 28c S. 6531 (G-BSKS) was one of the 50 Nieuport 28 aircraft to be shipped to America after the 1st WW for Army and Navy use. This particular aircraft was later used in the Howard Hughes film Dawn Patrol in 1931.The Nieuport was obtained from the famous Wings and Wheels auction in America in 1981 and it was brought back to the UK and restored for HAC by Tim Moore's company Skysport Engineering. It flew again in 1992.
Once operated by the United States Army it is now on display at their Museum in Atlanta Georgia.
Spitfire TE566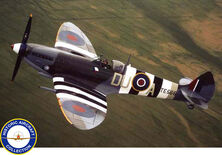 Spitfire TE566 first flew again in 1993 after 7 years restoration at Hull Aero and later at Historic Flying Ltd. HAC operated the aircraft for 4 years before selling it to Andrew Torr in South Africa. The aircraft unfortunately crashed in 2002 and was destroyed.
Nimrod I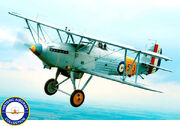 The Hawker Nimrod I, S1581, was operated by HAC from 2000 until it was swapped for The Fighter Collection's Hurricane in 2002. The Nimrod I still resides at Duxford in the hands of TFC.
External Links