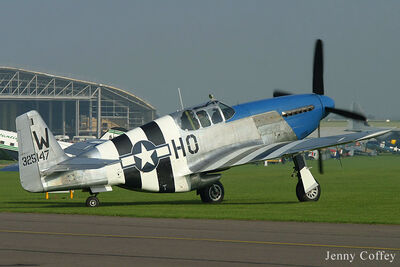 1945: Aug 07 - F6C-10 Crashed - pilot Paul K Rader killed - take off engine failure - Jorhat India
197?: Recovered parts from Israel by Pete Regina. Rep. parts for IDFAF 13.

1981?: N51PR, Pete Regina, Restoration as "Shangri-La"

1981: June 11 - Test flown by Dave Zeuschel

1982: First B/C model to race at Reno Air Races since '48

1986: The Believer, racer # 97, Joseph Kasparoff

1996: Stephen Grey / The Fighter Collection - Duxford UK, "Princess Elizabeth"

1997: June: P-51 is crated and shipped to England.

1998: April 16, G-PSID, Stephen Grey / The Fighter Collection / Patina LTD, Jersey UK

1998: July: Disassembly and parts inspection begins.

1998: November: P-51 shipped back to US for further restoration work

2002: shipped back to England for assembly, will probably be painted as before "Princess Elizabeth"

.

2005: first flight and seen in the summer skies of the UK

2006: December, Jim Beasley has purchased the P-51C and it will be shipped to the U.S. in early

2007 and hopefully flying by March.

2007: N487FS,

James Beasley

2007: Delays by the FAA and paperwork kept the P-51C grounded until late May 2007, but she is at her new home in Pennsylvania. Congrats to Jim Beasley for bringing her back home.

2008: N487FS sold to Dan Friedkin. Added to the Friedkin Air Force of Texas

2013: Returns to the UK at Duxford in May for the 'Mighty Eighth' celebrations at the Duxford Spring Airshow. Is 1/4 of 'The Eagle Squadron'. Also displays at Flying Legends before being shipped back to the US.   
Gallery
References
http://www.mustangsmustangs.com/p-51/?survivors/serial/43-25147 ---- mustangmustang.com
Community content is available under
CC-BY-SA
unless otherwise noted.