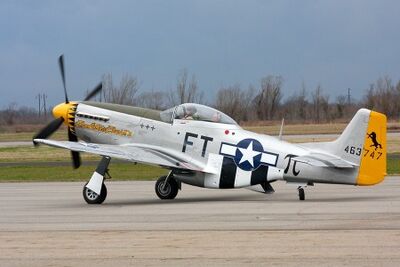 Serial #: 44-74977
Construction #: 122-41517
Civilian Registration: N5448V[N 1]
Model: P-51D-30NA
Name: Charlotte's Chariot II
Status: Airworthy
History
1957: McClellan AFB, surplus
1957: N5448V, Wayne Clevenger - bought from surplus, $1063!
1958: Jan - N5448V, Earl Dodge
1958: May - Jack Barrett
1960: Apr - Earl Dodge, Anchorage AK

Registered as N5448V.
Flew with large underwing drop tanks, support for fire tanker operations in Alaska.
Landed with gear locked up, McGrath, AK, June 11, 1966.

1968: Jul - Larry Mattson
1968: Nov - Mike Coutches, Hayward CA
1984: May - aircraft stolen from Tonapah NV, recovered 4 months later in Merced Ca.
1993: Mar - Robert Coutches
1994: May - Chris Gruys - Complete rebuild by Dan Martin in Hollister, CA
1999: Suffered front end damage during landing roll-out, fixed by Dan Martin
2003: Prop seal failed during ferry flight by Dan Martin. Martin was able to get back and land safely without a controllable prop. Oil was everywhere! (We do mean everywhere). Nice flying Dan.
2009: sold to Dan Fordice, Delivered in December, Vicksburg Tallulah Regional Airport, KTVR
2010: N251CS, repainted to "Charlotte's Chariot II" of the 354th FG 353rd FS which was flown by Cary Salter. Cary is still alive and is still married to Charlotte after 65 years.
2012: Apr 09, Charlotte passed after a long life with Cary. Our thanks to both Cary and Charlotte for their sacrifice for our country.
Notes
↑ An article on the Meredith effect, in the May 1999 edition of Aeroplane magazine, features a P-51 which, according to the caption for the photo, was registered N5448V, and held the record for being the Mustang with the longest period of ownership by a single person or organisation, which does not fit the info in the Mustang Mustang section of this entry. [2]
Sources
↑

May 1999 edition of Aeroplane Magazine
Bibliography
Atwood, J Leland. Aeroplane Magazine. May 1999.