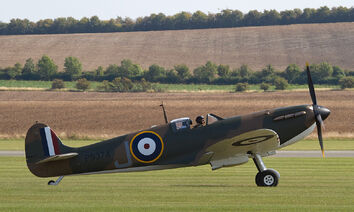 History:
Delivered to RAF as P9374, 19??.
Marked as GR-J.
Shot down/force landed on beach, Calais, France, May 24, 1940.
F/O Peter Cazenove survived.
Musee de l'Air, Vannes, France, 1980-1996.
Recovered from beach, Calais France, September 1980.
Simon Marsh & Thomas Kaplan, Isle of Wight, UK, 2000.
Simon Marsh & Thomas Kaplan/Spitfire Partners, Castelcucco, Italy, November 2000-2002.
Registered as G-MKIA.
Stored pending restoration to airworthy, Isle Of Wight, 2000.
Mark One Partners LLC, Grand Cayman, Cayman Islands, 2012.
Status:Airworthy.
Video
Gallery