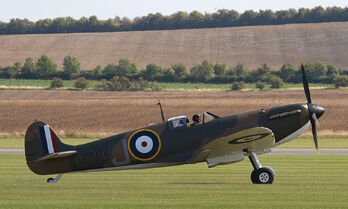 Individual histories
Mk IA
P9347. Mk IA Recently restored to airworthy
K9942. Mk IA. Currently at the RAF Museum at Hendon.[1]
P9444. Mk IA.Displayed at Science Museum London as of 2002.[1]
R6915. Mk IA.
P9306. Mk IA. Displayed at Museum of Science and Industry, Chicago.[1]
X4590. Mk IA. On Show at Battle of Britain Hall, RAF Museum, Hendon.[1]
Mk II
Mk IIA
P7973. Mk IIA. Presented to Australia for display at Australian War Memorial Museum in Canbarra.[1]
Mk IIB
P8332. Mk IIB. As of 2002, displayed at Museum of Science and Technology, Ottawa.[1]
Mk V
Mk VB
EP120. Mk VB. Castle Bromwich early 1942. 501 Squadron as SD-L (later SD-Y). Transferred to 19 Squadron, then 402 Squadron as AE-A.[1]*
Mk VC
Mk VIII
Mk IX
Anthony Hogdson, North Wales[2]
Tom Blair,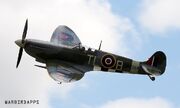 ~more to come~
LF IXC
MK356

Battle Of Britain Memorial Flight, RAF Conningsby[3]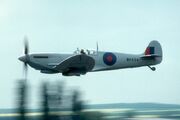 Tr IX
ML407 - Carolyn Grace at Hangar Two, The Imperial War Museum, Duxford, Cambridgeshire
PV202 – Historic Flying Ltd, Duxford, Cambridgeshire
PR.XI
PL965 – Peter Teichman, North Weald, Essex.[2]
~more to come~
Mk XIV
Mk XVI
XIX
References
↑ 1.00 1.01 1.02 1.03 1.04 1.05 1.06 1.07 1.08 1.09 1.10 1.11 1.12 1.13 1.14 1.15 1.16 1.17 1.18 1.19 1.20 Caygill, Peter. Combat Legend Spitfire Mks 1-V. Airlife Books. ISBN 1-84037-391-1. (2002)
↑

Aeroplane Monthly undated

↑

Aeroplane Monthly July 1998

↑

Aeroplane Monthly March 2013
Community content is available under
CC-BY-SA
unless otherwise noted.