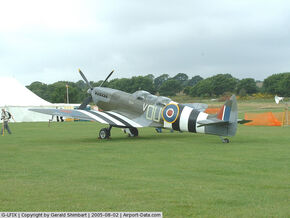 Serial #: ML407
Construction #: CBAF.8463
Civil Registration: #G-LFIX'
Model(s): LF Mk. IX ',TR Mk. 9'
Name: The Grace Spitfire
Status: Airworthy
Last info: 2002
History: Vickers Armstrongs Ltd, Eastleigh.
History
Single Seat
Early 1944.

ML407 Built at Castle Bromwich as a single seat fighter, serving in the front line of battle throughout the last twelve months of WWII, with six different Squadrons of the RAF's 2nd Tactical Air Force, flying 176 operational combat sorties.

29th of April 1944.

ML407 Delivered to 485 New Zealand Squadron by Jackie Moggridge, one of the top lady pilots of the ATA, where it became the 'mount' of Flying Officer Johnnie Houlton DFC.

6th June 1944.

Whilst flying ML407, Flying Officer Houlton is accredited with the first enemy aircraft shot down over the Normandy beach head.

December of 1944.

ML407 transferred to 341 Free French Squadron, becoming the aircraft of Sergeant Jean Dabos.

1945

ML407 moved on through 308 (Polish ) Squadron, 349 (Belgian) Squadron, 345 (Free French) Squadron, 332 (Norwegian) Squadron, and back to 485 (New Zealand) Squadron. [1]
Two Seat
July 19, 1950-1951.

Converted to TR Mk. 9 at Hrusley Park.

July 24, 1951.
July 30th 1951

Delivered to Irish Air Corps as 162.

July 8th 1960
1962-1968.

Instructional airframe, stored Disassembled, Baldonnel AB,

1968-1970.

N. A. W. Samuelson/Samuelson Films, Cricklewood, London, Mar.

Apr. 23, 1970-1979.

Stored disassembled. Sir W. J. D. Roberts, Shoreham (later Strathallan Collection) Scotland, -

Aug. 9, 1979.

Stored disassembled. E. Nick Grace, St. Merryn, Cornwall,

Feb. 1, 1980-1985.

E. Nick Grace/Island Trading Ltd., St. Merryn,
Registered as G-LFIX. -
Rebuilt to airworthiness,

Apr. 16, 1985. First flight St. Merryn.

Nick Grace & Chris Horsely, Middle Wallop, 1985-1989. -

Mar. 5, 1986.

Crash landed, South End. - Repaired. Caroline S. Grace, Winchester/Duxford, May 26, 1989-2002. - Flown as ML407/OU-V Aon (starboard) & NL-D(port) -
Minor Damage from taxying accident, Duxford, (repaired, Mar. 31, 2000).[2]
Gallery
References
Sources
Community content is available under
CC-BY-SA
unless otherwise noted.